News
SUMMER 2020
posted Jul 1, 2020, 4:10 PM
SUMMER 2020! REGISTRATION IS OVER FOR THE SUMMER SEASON. SUMMER 2020

ÉTÉ 2020! INSCRIPTIONS POUR L'ETE EST COMPLETE! ÉTÉ 2020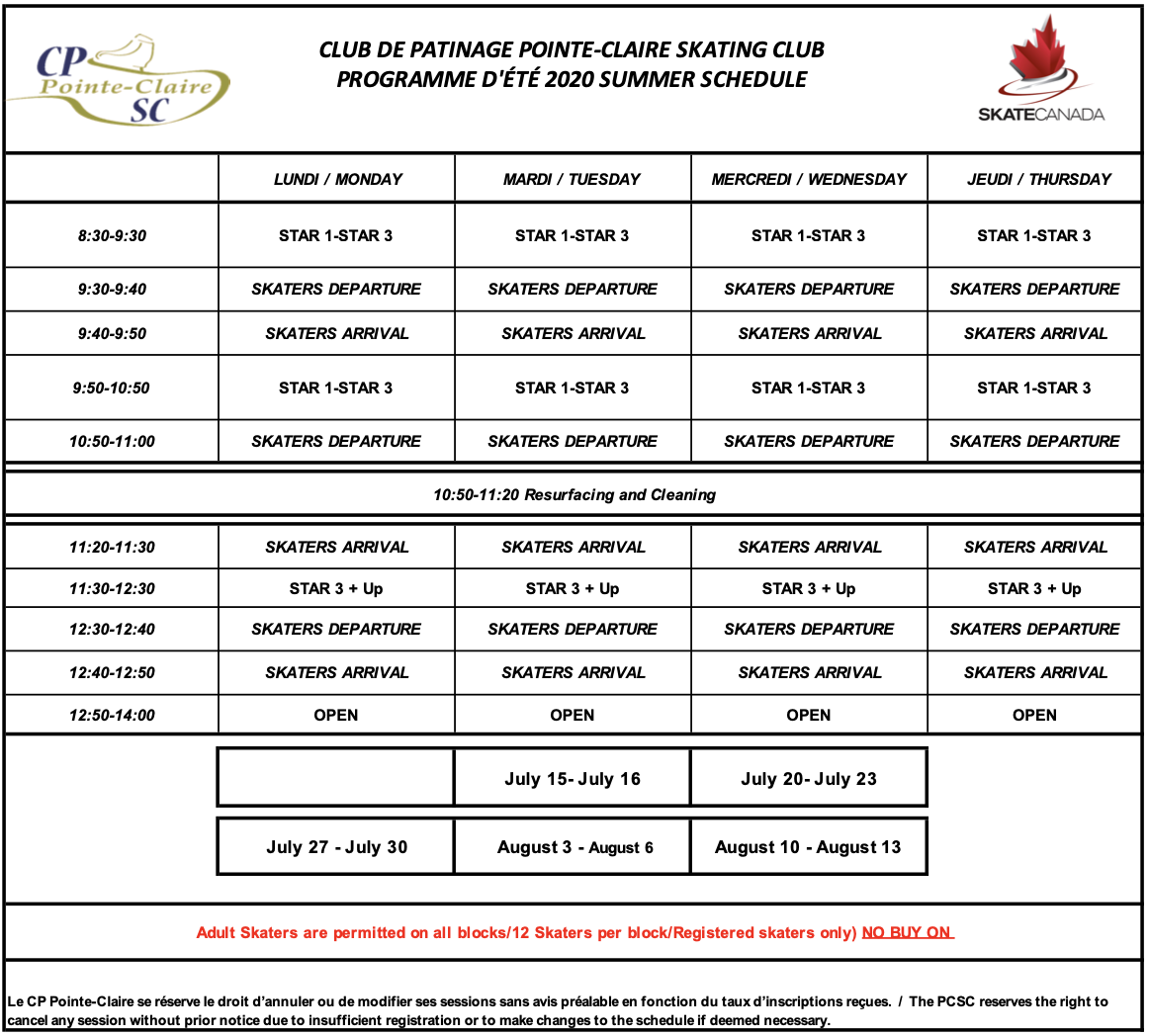 ANNUAL GENERAL MEETING
posted Jun 1, 2020, 4:06 PM
NOTICE OF MEETING
The Annual General Meeting of the Pointe-Claire Skating Club will be held on Tuesday July 14th at 7pm online on ZOOM. Link to be shared via email. If you will be attending the meeting please send your request to receive the link to
info@cpapointeclaire.com
Official Meeting Documents:
==================
AVIS DE CONVOCATION
L'Assemblée générale annuelle du Club de patinage Pointe-Claire aura lieu mardi le 14 juillet à 19h00 sur ZOOM. Lien à partager par e-mail. Si vous assistez à la réunion, veuillez envoyer votre demande pour recevoir le lien à
info@cpapointeclaire.com
Documents pour la reunion:
SPRING COVID 19 UPDATE
posted May 29, 2020, 1:42 PM
For the safety of your children during the ongoing Covid-19 Pandemic, all sessions for the Spring 2020 season have been cancelled. Reimbursements will be applied to all members who are already registered for the 2020 spring session.
We will update you with any changes by Skate Canada, Patinage Quebec, and the City of Pointe-Claire.
Thank you.
----
Pour la sécurité de vos enfants pendant la pandémie de Covid-19 en cours, toutes les sessions de Patinage Plus pour la saison du printemps 2020 ont été annulées. Les remboursements seront appliqués à tous les membres déjà inscrits à la session Patinage Plus du printemps 2020.
Nous vous informerons de tout changement apporté par Patinage Canada, Patinage Québec et la Ville de Pointe-Claire.
Je vous remercie.
COVID-19 MESSAGE
posted Mar 13, 2020, 1:22 PM
Please be advised that the City of Pointe-Claire has been monitoring the COVID-19 (Coronavirus) situation closely. As a preventative measure the Arena as well as the Aquatic Centre and Library will be closed as of Friday March 13th, 2020 until further notice.
We will keep our members updated on when skating will resume.
Thanks for your patience and please do not panic. This is a precautionary measure to reduce the spread of the virus.
---
Veuillez noter que la Ville de Pointe-Claire surveille de près la situation du COVID-19 (Coronavirus). Par mesure préventive, l'aréna ainsi que le Centre aquatique et la Bibliothèque seront fermés à compter du vendredi 13 mars 2020 jusqu'à nouvel ordre.
Merci pour votre patience et s'il vous plaît ne paniquez pas. Il s'agit d'une mesure de précaution pour réduire la propagation du virus.
JANUARY 31ST- ARRIVE EARLY
posted Jan 31, 2020, 11:44 AM
JANUARY 31 SKATING: Please ARRIVE EARLY. Parking will be packed. The Montreal Canadiens Alumni- Nova West Island tournament is taking place. Parking available around and behind the arena. Thank you
31 JANVIER SKATING: S'il vous plaît arriver tôt. Le stationement sera très occupé. Le tournée des anciens Canadiens de Montréal avec NOVA West Island aura lieu. Stationement disponible autour et derrière l'arèna. Merci!