LATEST UPDATE:
SUMMER 2020! REGISTRATION IS OVER FOR THE SUMMER SEASON. SUMMER 2020
ÉTÉ 2020! INSCRIPTIONS POUR L'ETE EST COMPLETE! ÉTÉ 2020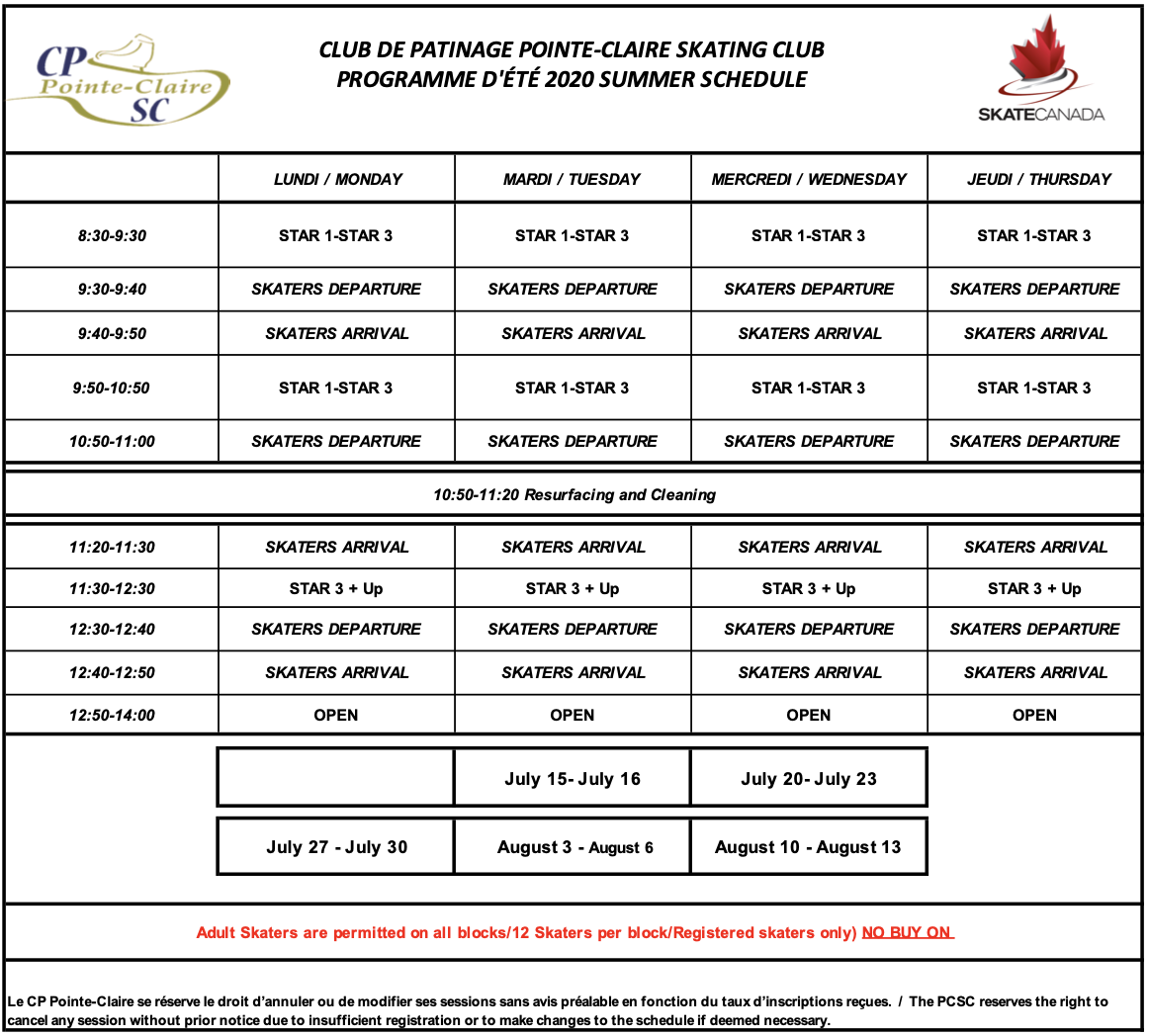 NOTICE OF MEETING
The Annual General Meeting of the Pointe-Claire Skating Club will be held on Tuesday July 14th at 7pm online on ZOOM. Link to be shared via email. If you will be attending the meeting please send your request to receive the link to
info@cpapointeclaire.com
Official Meeting Documents:
==================
AVIS DE CONVOCATION
L'Assemblée générale annuelle du Club de patinage Pointe-Claire aura lieu mardi le 14 juillet à 19h00 sur ZOOM. Lien à partager par e-mail. Si vous assistez à la réunion, veuillez envoyer votre demande pour recevoir le lien à
info@cpapointeclaire.com
Documents pour la reunion:
EVALUATIONS

Please remember to check your child's evaluations on your Uplifter account. Evaluations are taken throughout the session and ribbons/badges are handed out as needed. If you're not sure how to access evaluations please click here:
How to Review Evaluations

==================

N'oubliez pas de vérifier les évaluations de votre enfant sur votre compte Uplifter.

Les évaluations sont effectuées tout la session et des rubans / badges sont distribués au besoin.

Si vous ne savez pas comment accéder aux évaluations, cliquez ici:




Comment voir les évaluations
THANK YOU for visiting the Pointe-Claire Skating Club Website.


MERCI

de visiter le site Web du Club de patinage de Pointe-Claire.
ARE YOU ON OUR EMAIL LIST?
Stay in the loop and make sure you're on our mailing list.